Hot springs
New Zealand sits on one of the world's most major plate boundaries, and consequently were subject to earthquakes and geothermal activity. A result of this geothermal activity New Zealand has been blessed with scenic volcanoes such as Mt Ruapehu, Mount Taranaki and of course Mt Maunganui. But this also means an abundance of natural hot springs!
Historically Māori used natural hot springs to cook food, bathe or to treat ailments, and entire settlements were established around them (e.g., Lake Rotorua). Research has shown that hot springs can have medicinal benefits, such as the potential to relieve pain, soften dry or rough skin, and the sulphur in the water can ease symptoms of eczema or psoriasis. In addition, the hot springs are well known for reducing stress, promoting sleep, and significantly increasing circulation from the variety of different minerals found in the springs!
So here are three of our favorite free hot springs to help you indulge your senses and enjoy what New Zealand's enchanting natural environment has to offer.
1. Kerosene Creek
Thirty minutes south of Rotorua is this magnificent stream with 2m waterfalls and rock pools to soak and immerse in the beauty. This is a free public stream and is popular amongst tourists and locals…for good reason.
2. Otumuheke Stream- Spa Thermal Park
This hot water stream is found running into the longest river in New Zealand, the Waikato River. The park has picnic areas, plenty of parking, a small cafe and walking tracks all around, and it's only a 0.5km walk to Huka falls.
3. Hot Water Beach
This is a must do. A beach just south of Whitianga thermal water bubbles beneath the sand. At low tide, if you bring a shovel, you can dig yourself the best warm beach bath you'll ever have. The landscape and atmosphere of Hot Water Beach are unlike any other.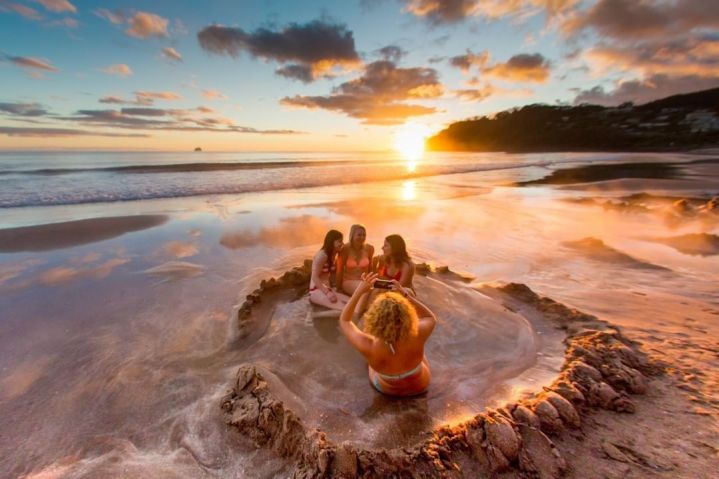 Back to top