Life at Pacific Coast Lodge
Pacific Coast Lodge is not just a hostel—it's a place where memories are made! We went around and asked our guests a few questions about what makes our hostel different from others in New Zealand. Here's what they had to say
What is your favourite thing to do at Pacific Coast Lodge and Backpackers?
When we asked this question, we got quite a few similar answers! Many guests enjoy kicking back after a hard day of work in our cosy TV lounge. With Google Chromecast, you can stream your favourite show or movie instantly and it's been a big hit for our guests when it's time for chill time. Other guests mentioned our free surfboards—a great opportunity when you're learning how to surf or for the experienced surfers wanting to sharpen their skills! A consistent answer was socializing at PCL; we host events at least once a month, it's a great opportunity to bond and get to know your hostel mates! We host events like Valentine's Day Speed Dating, Open Mic Night, Beach Cleans, and more! You may come to Pacific Coast Lodge and Backpackers as a solo traveller, but you will leave with friends for a lifetime.
What do you love about Pacific Coast Lodge?
Many of our guests said that they love our large industrial-sized kitchen, perfect for cooking up a meal to share with your friends. Our outside patio is well-loved, with many guests preferring to have an ice cold beer with mates after working in the orchards here! Free surfboard were also a guest favourite, not many hostels in NZ offer FREE surfboards for you to take out, and we are happy to see guests getting out and about in the swell!
One consistent answer was the people: from the friendly staff who get to know your name while you stay here, to the roommates you'll have in your dorm, it's the vibe more than anything that speaks volumes for the experiences had at our Mount Maunganui hostel.
Best things to do as a backpacker in Mount Maunganui?
While you can always ask our friendly staff the top things to do in Mount Maunganui, our guests are spot on to some of our favourites. An absolute must do is to climb the summit of Mauao—don't be afraid, it's only a 30-45 minute hike to the top! The views are incredible and you get a panoramic view of Tauranga and the surrounding areas. Our guests also love to take a walk around the base track if you're feeling up for a walk that won't leave you sweating. You can even catch seals on the rocks throughout the year! Other guests prefer to catch the waves instead of looking at them, and some guests enjoyed hanging out and watching the sunset at Pilot Bay.
What job do you do?
As we are a working hostel, we help you find work in the local area if you arrive needing work! Most of our guests are kiwi picking or working in kiwifruit packhouses. Both are great, high paying jobs and it comes down to your preference of working indoors or outdoors. A few guests are working in local bars and restaurants, and one of our guests is working a beachfront coffee stand! We have a variety of jobs our guests do which is awesome!
What do you love about being in Mount Maunganui?
We got two similar answers when we asked this question: the beach vibe and chilled out atmosphere. It's true, when you come to Mount Maunganui, you'll find a vibe that's not like any other in New Zealand! Our locals are friendly, the waves are always coming, and we have so many beautiful sunny days here in our town.
What are you waiting for? Pacific Coast Lodge and Backpackers is ready to welcome you to our sunny paradise!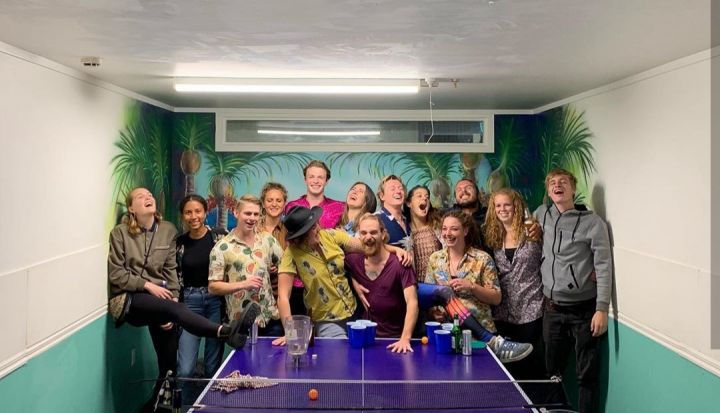 Back to top