Spooking Up for Halloween
We love hosting events and organizing all sorts of random gatherings and outings for our guests. Halloween is easily a fav on our event calendar, and a great reason to come and stay with us over the Hallow-ed weekend… if you dare!
We love Halloween. It's one of those times of the year when you can get dressed up and let your inner demon out, and our annual Halloween party is no exception. Here's a sneak peek of what you might expect if you come and stay with us over Halloween.
CREATIVE COSTUMES
Easily one of the most fun and outrageous nights of the year, our annual Halloween party sees all our team and guests get dressed up in all sorts of wild and crazy outfits. You can really let your imagination run wild and we give extra props to those who reuse, recycle, or consider their costume sustainably – keep that MOOP (Materials Out Of Place) to yourselves people!
We make our recycling available to all our guests keen to get creative and sustainable with a homemade outfit. It's amazing how far cardboard and plastic bottles will go and what they can become.
Once we're all gathered and good to go, we hold a Costume Contests where everyone gets the opportunity to vote for their fav costume, and prizes are given to guests with the most votes.
For our prizes this year, we have received support from Waimarino Adventure Park, TreeWalk Rotorua, MexiCali Fresh, Brew Co., and Pizza Library…. with more sponsors to be announced soon! A massive thanks to all these businesses and we hope you show your support too by choosing them for your next adventure.
SPOOK-TASTIC INSIDE & OUT
We fully deck out the hostel with spiderwebs and spooky decorations to help everyone get into the theme of the night.
And it's not just us who are into the Halloween celebrations. After prize-giving, you can spook your way into the village (Mount Maunganui) where all the bars and venues will be fully into the theme of the night too – check out their Facebook event pages to see who is playing where!
So don't get FOMO and miss the Halloween celebrations this year. Grab a friend or 10 and book a room or dorm with us to have a brilliant weekend away.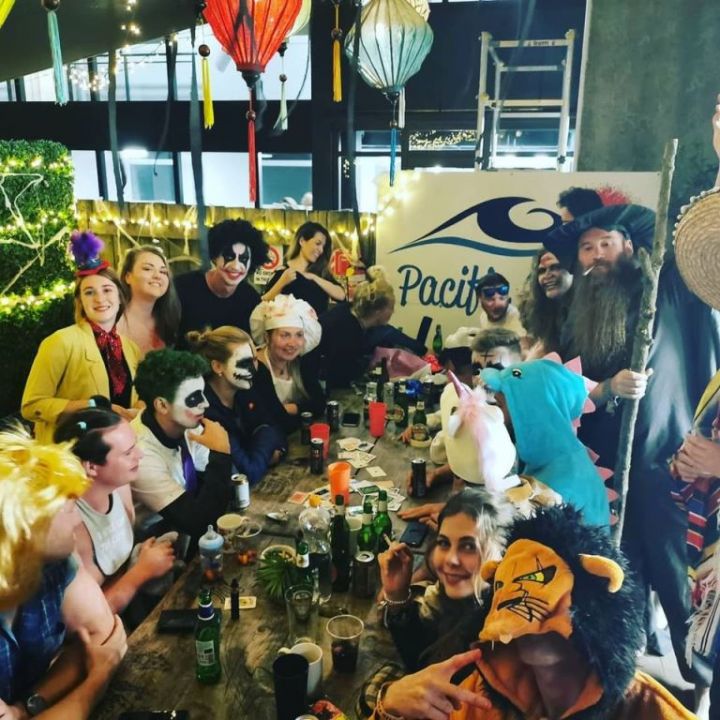 Back to top