Top 10 Things to Do in Mount Maunganui
Climb the Mount
This should be a no-brainer, as it's one of the top-rated things to do for all visitors who come to the Mount! Climbing to the summit of Mauao may look daunting, but it's only a 30–40-minute walk to the top. You'll be treated with stunning views of the coastline once you're at the top!
Get a local made ice cream
If you're visiting in summer, grab an ice cream from one of the great local spots! Mount Made ice cream is one you won't want to miss; a popular favorite is also Copenhagen Cones located near the hot pools (they make in-house waffle cones!). If you're looking for a dairy free option, try Sea People who specialize in coconut based and vegan sorbets.
Stroll along Motoriki
Motoriki, also known as 'Leisure Island', is a little island that's connected to Main Beach by a little sand strip. It's also a bird and penguin sanctuary, so you might get lucky and spot some of NZ's native bird species on the island.
Take a picnic to Pilot Bay
Pilot Bay is the harbour side of Mount Maunganui, and with its long boardwalk and grassy spots, it's a great place to take a picnic and enjoy the view. We recommend bringing a bottle of wine with a friend (or two) to share and relish the golden hour—the sun sets on this side!
Climb Papamoa Hills
Papamoa Hills is another great walking track located about 20 minutes out of the Mount. You'll be treated to another great view of the Mount and a stunning vista to the south of us, which points towards Rotorua and Whakatane.
Have a beer (or cocktail) at one of the local bars
Need to cool down on a hot day? Grab a beer at the local Brew Co. or Astrolabe, who both have outdoor seating so you can people watch and soak up the sun. If you fancy a cocktail, we suggest hitting up Voodoo Lounge (their cocktail menu is updated weekly) or Hide for happy hour espresso martinis…a kiwi favorite!
Walk the base track of the Mount
If you're not feeling up for the hike to the summit of Mauao, there is an equally incredible base track that requires less sweat! You might even get lucky and spot a seal or two, as many of these creatures like to bask in the sun on the rocks below the track. Enjoy the massive Pohutukawa trees lining the walking track, which takes about 40 minutes to complete.
Take a bus to Tauranga
If you're bored of the Mount, take a city bus over to Tauranga—you'll have a free art gallery to visit, local shops and restaurants, and street art lining the CBD. You might even be very lucky and see an orca or two swimming in the harbour.
Visit one of the local markets
The Little Big Markets happen on Saturdays in Coronation Park from 9am-2pm…they are our loved craft markets with food stalls, handmade goods, and more! We also have local produce and baked goods located at the Mount Farmers Markets every Sunday morning in downtown Mount!
Take a bike ride through the Mount
While the surf might be flat, it's a good thing that Mount Maunganui is equally flat…for biking! Grab a bike and cruise down for beach side views. You can also head downtown as there are many bike racks so you can have a shopping break as a pit stop!
We look forward to welcoming you to our Mount Backpackers and hope you enjoy visiting the beautiful Bay of Plenty.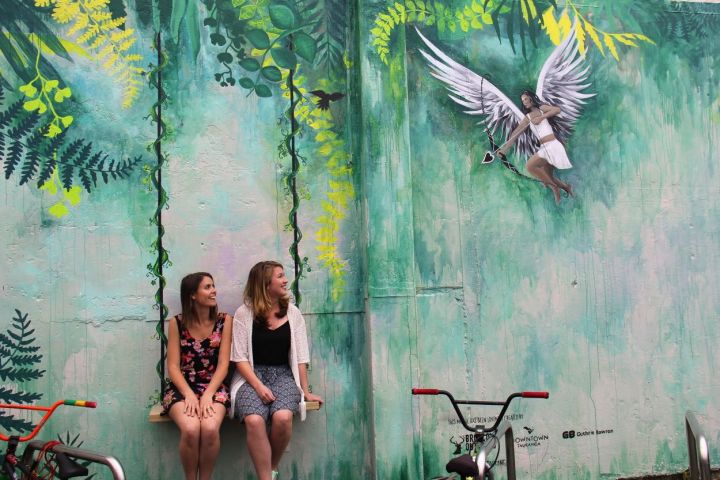 Back to top